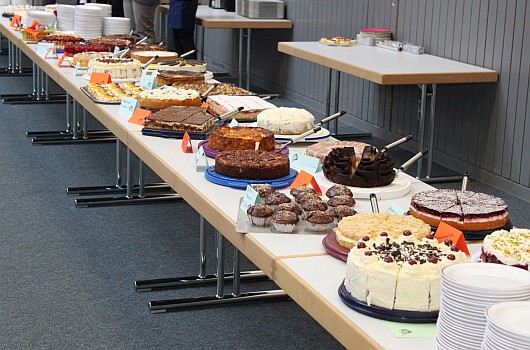 Ein beliebtes Treffen der großen Familie von Musikern, Eltern, Verwandten, Bekannten und Musikfreunden in der Region ist das Kaffeekonzert in der Stadtkapelle Wertingen. Der tüchtige Nachwuchs im Vororchester steht unter der Leitung von Karolina Wörle und im Jugendorchester unter Heike Mayr-Hof.
Nach der Begrüßung und einem kurzen Gedenken an die Terroropfer von Paris übergab Christian Hof das Mikrophon dem Nachwuchs auf der Bühne in der Stadthalle Wertingen.
Im Vordergrund stand an diesem Nachmittag ein Programm, das den jungen Musikanten gut im Ohr liegt und damit authentisch klingt. Filmmusik wie "Skyfall", "Star Wars" und "Eye of the Tiger" sowie Rock und Pop u. a. "Another one bites the Dust", "Hang on Sloopy", "Crocodil Rock" oder "I want to hold your hand" wählte Karolina Wörle für ihre Schützlinge aus, so dass der Spaß nicht zu kurz kam. Natürlich wurden auch die anwesenden Geburtstagskinder wieder mit einem "Happy Birthday" und kleinen Geschenken gefeiert und geehrt. "Es ist beachtlich, was die jungen Musikerinnen und Musiker in nur zwei Monaten Probenarbeit schon alles spielen können.", so begeisterte Konzertbesucher gegenüber der Dirigentin.
Zahlreiche Weiterbildungen und Erfolge bei Wettbewerben
zahlreiche Erfolge bei der Urkundenübergabe
Das Präsidium der Stadtkapelle Wertingen nütze das Konzert auch um viele junge Musiker für erfolgreiche Weiterbildung oder die Teilnahme beim Kammermusikwettbewerb mit Urkunden zu ehren. So konnte Präsident Christian Hof 55 Jugendlichen aus den beiden Orchestern auf der Bühne gratulieren.Mit der Originalkomposition "Flashing Winds", einer Musikfolge aus dem Musical "Tanz der Vampire", Filmmusik aus James Bond-Filmen, einem Medley der unvergessenen Melodien von Udo Jürgens und dem Marsch "Arsenal" startete das Jugendorchester, unter Heike Mayr-Hof. Als Solisten glänzten Michael Schäffler und Thomas Briegel bei der Konzertpolka "Die Perlen". Das umfangreiche, anspruchsvolle Repertoire erklang in optimaler Weise unter Beachtung aller musikalischen Parameter. Bei den Hits "Halleluja" und "You raise me up" erhielt das Orchester Unterstützung von der talentierten, ausdrucksvollen Nachwuchssängerin Lina-Marie Sandner. Es war der erste Auftritt in der neuen Spielzeit vor großem Publikum, denn wie gewohnt, war die Stadthalle voll besetzt. Am reichhaltigen Kuchenbüfett, gespendet von den Eltern, standen die Besucher Schlange, um sich mit leckeren Sahnetorten, Rouladen, Obstschnitten oder Kleingebäck zu versorgen. Der Kaffeeautomat lief auf Hochtouren und die fleißigen Helferinnen in der Küche hatten alle Hände voll zu tun um dem Ansturm Herr zu werden.